LEARN BJJ WELL
We Develop A High Skill Level In A Complete Game
Tues & Thrs: Men's Baisc BJJ 7:00 PM Unit 1 / Ladies & Teens 7:00 PM Unit 2
.
Our Basic BJJ Course
We Teach you technique with patient, repetitive instruction until you get it. Taking you from White To Blue Belt to give you a legitimate expertise in Stand Up, Mount, Guard, Cross Body and Back.
The Stand Up is about learning how to Counter punches & kicks, develop Base, enable Clinching and Shooting into Throws & Takedowns. In the Mount Top you will learn how to ride, control and submit and on Mount Bottom you will learn how not to get hit or submitted and escape. The Guard Top will teach you proper, good posture and how to kill the hips, open the legs and execute quality passes.

The Guard Bottom you will learn how  not to get hit, to break posture, counter the opponents attempts to pass and capitalize to submit, take the back, sweep or come out. Our Cross Body Top will enable you to destroy the attackers attempts to escape as you dominate to control and execute multiple submissions. Cross Body Bottom is learning how not to get hit, submitted and framing to escape. Then the Back Offense is about controlling the position to submit or mount your opponent. The Back Countering material will enable not to get hit or submitted and manipulate your opponent to execute multiple submissions.
All of these positions then come together as a hole as your Sensitivity is developed to feel and read your opponents intentions before he or she ever completes the action. Gaining this level of sensitivity will allow you not only to counter your opponents attacks but also use them against him to control him, dominate his movement and ultimately secure a takedown, sweep, move or submission lock that he cannot escape.



And That Is Only The Beginning
You Will Be Treated With Respect As You Are Given Patient, Quality Instruction That Is Designed To Always Be Improving Your Needs & Ability I
n BJJ
.
See One Of Our Students At The 2013 Grapplers Quest, Fighting At 17 In The Men's Division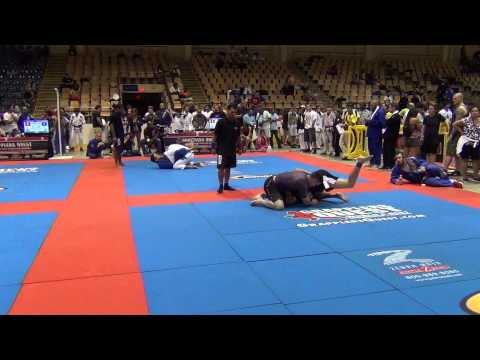 CONGRATULATIONS
TEAM DAUNTLESS
WINNING 3 GOLD MEDALS AT THE UGC NATIONAL GRAPPLING CHAMPIONSHIPS
.
CALEB SACHETTI 50-59 NO GI - GOLD
JOHN BURRIS 160-169 NO GI 160-169 – GOLD
ANGELO RICHARDSON 170-179 GI – GOLD
.
.
At DAUNTLESS We Have Over 18 Years Of Teaching Experience In Brazilian Jiu-Jitsu. Our Chief Instructor Allen J. Sachetti and Senior Instructor Maribeth Sachetti are both Black Belts In Brazilian Jiu-Jitsu With Certifications From Rickson Gracie, Royler Gracie & Luiz Palhares.
.
THE BEST THING

About Dauntless However Is How We Teach. You See Many BJJ Schools Today Are NOT Really Schools, But More Or Less Clubs Where You Go There And The Teacher USES YOU For HIM To Practice On. In These Places The Teacher Usually Works Another Job During The Day And Then At Night, Well It's All About Him And You Go Over Whatever Technique He Wants To Do (Which Is Always Out Of Sequence For You) And Then He USES YOU To Wrestle At The End For Him To Practice On. This Certainly Is Not The Right Way To Learn.
.
WELL NOT AT DAUNTLESS – Here You Get Step By Step Proper Instruction With All Details & Nothing Being Held Back. You Are Taught In Proper Progression With An Actual Curriculum That Covers ALL Positions That You Need In The Fundemental Course And Then The Mroe Advanced Material In The Intermediate Course. Your Wrestling Is Done First Positionally With Careful Instruction To Point Out For You How The Moves Actually Work Until You Get It. This Is Why Dauntless BJJ Students GET GOOD FAST & With Less Injuries.
IF YOU Really Want To Develop A  Truly In Depth BJJ Understanding Of Principals & Technique Along With Absolutely The Most Effective Performance Ability In Actual Grappling Then Learn With The Dauntless BJJ Curriculum. This Curriculum Designed By Mr. Sachetti Is Truly A Masterpiece Of Functional Instruction That Takes You Through Each Aspect & Level Of Jiu-Jitsu Creating Wrestling Experiences That Cultivate Your Body & Mind To Change. To Feel What Your Opponent Is Doing Before He Does It, To Know The Right Technique To Apply To his Energy And Then Have The Reaction Time To Execute Sharply To Catch Him. This Is What Dauntless Will Develop IN YOU!!
SEE MY SKILL LEVEL AFTER 1 YEAR AT DAUNTLESS
Dauntless Student John Burris Wins The 2012 National Grappling Championship For 160-169 lbs

THE DAUNTLESS BJJ CURRICULUM
The Dauntless Fundemental BJJ & Grappling Course – Takes you from Beginner White Belt to Blue Belt covering important Fundemental material on Stand Up, Mount, Guard, Cross Body & Back with in depth details on moves and flow to link your movements throughout the fight as the energy changes. It is this foundation that will provide you the ability to escape bad positions and control dominant ones for more advanced material to come. The average person who comes consistently should complete this course and earn his or her Blue Belt in 8-12 months.
The Dauntless Intermediate BJJ & Grappling Course – takes you from Blue to Purple Belt. Here you will gain an effective ability in Stand Up, Self Defense, Fetal Mount, 1/2 Guard, Spider Guard, De La Riva Guard, Butterfly Guard, X-Guard, Cross Body, Knee In Belly, North South, Hammer Position, The Turtle, Leg Locks And More. The average person coming consistently can earn the Purple Belt in 2-3 years.
THE DAUNTLESS BJJ LINEAGE
In 1914 Japanese Jiu-Jitsu Champion Esai Maeda arrived in Brazil, where he was aided by a Brazilian official named Gastao Gracie. In return he taught Gastao's sons Carlos, Oswaldo, Gastao, Jorge & Helio Gracie the ancient art of Jiu-Jitsu. In 1925 Carlos Gracie and his brothers opened the first Jiu-Jitsu academy in Botafogo a district within Rio de Janeiro. Helio Gracie (the youngest brother) due to his frail health was forbidden from doing anything physical. However he got involved at 16 by substituting for his brother Carlos. Despite his small frame and weight Helio created an art that depended entirely upon Technique instead of strength or speed. Daring to break away from the Japanese style he went onto modify and refine the art through constant real "No Holds Barred Fights", into what we now know today as Gracie Jiu-Jitsu or Brazilian Jiu-Jitsu
1994-2002
Rickson Gracie (see to the left of Mr. Allen J. Sachetti) the son of Helio Gracie & elder brother of Royce Gracie (of UFC fame) was born into Jiu-Jitsu starting competition at age 6, he started teaching at the age of 15 and at 18 he received his Black Belt. Rickson's fighting career has been to say the least Phenomenal, at 20 Rickson won an inspiring victory against a 230lb, Brazilian Champion named Zulu, who until then enjoyed a 140-0 NHB record.
In 1996 Allen J. Sachetti (seen right) tested for his Blue Belt In BJJ directly under Rickson Gracie. It was a 5 hour test and only 11 out of 18 were passed. After that Mr. Sachetti continued training with Rickson in Private Lessons, Seminars and Group Classes to go onto Earn a Purple Belt. Mrs. Maribeth Sachetti earned her Blue Belt from the Rickson Gracie Jiu-Jitsu Association on 11/11/01 and went onto train with Royler Gracie, Renato Migliaccio and Luiz Palhares a senior student of Rickson Gracie.
2002 – 2005
Royler Gracie the younger brother of Rickson and older brother of Royce is the 5th son of Helio Gracie. Royler has been competing as a Black Belt in Jiu-Jitsu for the last 20 years. Royler has won the Brazilian World Jiu-Jitsu Championships 4 years running, the Abu Dhabi Submission Wrestling Championships for the last 3 years straight and winning numerous NHB fights like the Pride fights held in Japan.
Allen J. Sachetti (seen right) began training with Royler when he was with the Rickson Gracie Association and he continued training with and hosting him for seminars until Feb. 2005. Mr. Sachetti was also awarded a Special Instructor's Certification from Royler in 2004.
Mrs. Maribeth Sachetti Trained with Royler Gracie from 2002 to 2005 and then went on to continue her Training with the M-1 Global MMA Champion & BJJ Mundal Champion Renato Migliaccio. Later in 2005 she also began training with Professor Luiz Palhares a Pan American BJJ Champion and 6th Degree Black Belt senior student of Rickson Gracie.
2004 – Present
Renato Migliaccio is a personal friend of Mr. Allen J. Sachetti who has visited our school often for training in advanced Gi & No Gi. Renato is a Black Belt under Ryan Gracie and a World Champion in Brazilian Jiu-Jitsu. He is the winner of numerous Jiu-Jitsu, Judo & Submission Grappling Tournaments in and out of Brazil. Renato won the Gold Medal at the 2002 Brazilian Jiu-Jitsu World Championships and he recently competed at the 2007 Abu Dhabi Grappling Championships.
Renato recently fought in MMA in the M1 Global with an undefeated record as well as fighitng in MMA extensively in Western & Eastern Europe.  You can see Renato's fights on You Tube. Renato is a frequent visator to Dauntless doing MMA and BJJ seminars
His teaching has contributed a large part to the Dauntless BJJ curriclum as well as adding an impressive Greco Roman ability to our staff. Known mostly for his BJJ and MMA but Renato aslo has a vast Greco Roman background with some of the best masters in Europe.
2005-Present
Luiz Palharez is quite a uniquely skilled master in Brazilian jiu-Jitsu. He began his Jiu-Jitsu training with the legendary Rolls Gracie in Brazil. After Roll's death Luiz continued training under Rickson Gracie for years. Luiz was brought from Brazil to teach at Rickson's Academy in L.A. and he is a 6th Degree Black Belt given his Black Belt directly from Rickson Gracie.
Allen J. Sachetti (seen right) started training with Luiz Palhares in April 2005 and since then Valor Martial Arts has been an Official School of the Luiz Palhares Jiu-Jitsu Association hosting Professor Palhares for seminars on a regular basis. Allen Sachetti was promoted to a well earned Black Belt by Luiz Palahares in November of 2007.
Heres a quote from U.S. Special Forces about Luiz: Master Palhares, I would like to express my sincere appreciation for the superb combatives training you and your sons Pedro and Cesar provided to the men of the 3rd Battalion, 20th Special Forces Group (Airborne) during our preparation for a combat deployment to Afghanistan.  We chose your program based on your unique experience training Navy SEALs, Marines, Soldiers and civilian law enforcement personnel as well as being certified as a Modern Army Combatives Program (MACP) instructor.  I'm convinced the training you provided helped to prepare our men for the physical and emotional stress of combat and contributed to our overall mission success.  Thank you again and we look forward to future training opportunities. – John Pelleriti / Lieutenant Colonel, US Army Special Forces
The Luiz Palhares Brazilian Training Camp 2006
Claudio Fontes is the partner of Maestro Luiz Palhares and Mr. Allen J. Sachetti met him in Brazil at the Luiz Palhares Training Camp. (Seen left in Brazil)
Claudio is a phenomenal teacher who trained me 4 hours a day every day, 7 days a week. I learned a lot from him and got to wrestle consistently with two of his Black Belts who were 3 Time Mundal World Champions. Not to mention a lot younger too.
Claudio has an expertise and skill level not often seen. He really upgraded my Jiu-Jitsu and I am very happy to call him my friend. Luiz and Claudio provide the Luiz Palhares Association a wealth of experience and knowledge that we at Dauntless BJJ Academy are happy to be a part of their Team!
The nicest thing perhaps about this BJJ Camp was not only the excellent level and quantity of technique being taught but also the number of legitimate BJJ Black Belts who were there that I got to constantly wrestle with. They were great and really brought my competitive level up to a much higher conditioning level. The heat, the reps and the Skill Level of the people there were all amazing factors for my improvement.
.
Allen J. Sachetti Brings BJJ To Dauntless In Delaware
Allen J. Sachetti In 1985 his car was struck by a drunk driver on the Walt Whitman Bridge, he got out to survey the damage and he was struck again (as he was standing) by the Police Car coming to help him. This impact  broke both of his legs badly and sent him flying up into the air hitting into the Bridge to knock him back to land on the bridge once more . Upon an arduous 12 month recovery at the age of 21 Allen began training in the Martial Arts in 1987.
In 1994 he began training in BJJ under Rickson Gracie from whom he reached the rank of Purple Belt. Mr. Sachetti also trained extensively with Royler Gracie, Renato Migliaccio and Luiz Palhares (a senior student of Rickson's) to earn his Brown Belt and then Black Belt in Brazlian Jiu-Jitsu.
Mr. Sachetti has been competing in Gi & No Gi events since 1996 winning numerous medals in the Pan Ams, The Rickson Gracie International Jiu-Jitsu Championships and many others. He won the 1998 World Full Contact Stick Fighting Championship and was competing in MMA back when it was called NHB (No Holds Barred) and Vale Tudo (Free Fight) with practically no rules and Head Butts. To date Mr. Sachetti is undefeated in MMA & Full Contact Stick Fighting in both the US and Philippines.
Mrs. Maribeth "Calamity" Sachetti
Mrs. Maribeth Sachetti (seen left choking Mr. Sachetti) has won Numereous Gi and No Gi Championships including The Battle of the Beach and the 2004 NAGA National Championships. Mrs. Sachetti was promoted to Black Belt In Brazilian Jiu-Jitsu by Luiz Palhares in 2009.
Maribeth Sachetti is one of the few women in the world to earn a Black Belt in Brazilian Jiu-Jitsu. She is also the first Filipina to earn a Black Belt In BJJ and the first woman to be promoted to Black Belt by Luiz Palhares. An aggressive grappling competitor Maribeth has won many Gi & No Gi competitions and excelled in both Boxing & Muay Thai. Maribeth has also become an accomplished MMA Figther training in the Sachetti MMA System which uses her native art of Filipino Dumpag as well as Muay Thai, Boxing , Wrestling and BJJ.
Mrs. Sachetti is also a Lakan Guro In Filipino Dumpag and Pekiti-Tirisia. Additionally she has experience in Muay Thai, Wrestling, Judo, Wing Chun and now is a Brown Grade in KFM.
COME TO DAUNTLESS IN MIDDLETOWN & YOU WILL GET THE BEST BJJ EXPERIENCE IN DELAWARE