Do You Have The Spirit Of A Warrior?
Do You Run Towards The Fight When Others Run Away?
Then Try Pekiti-Tirsia With Us
The Number One Reason to learn Pekiti-Tirsia is to have the Instinct and Ability to save your life and the lives of your family when you are attacked by single or multiple attackers. In the world today there are indeed souless, human animals that walk around with absolutely no remorse or reluctance for killing you and your family. Especially if they think you are in their way or they don't like the way you look. I know it's a horrible thing to discuss but its reality and only a fool ignores what is going on around him. Whether it is gang violence, urban threats or class warfare rhetoric there are far too many people today who believe they are justified in harming others. They are Amoral and often times only waiting for their chance to vent some deluded frustration.
Pekiti-Tirsia Short Sword Seminar
By Mandala Allen J. Sachetti
Sat. Nov. 16th 1:00-4:00 pm / See Details In Link Below
What Is Pekiti-Tirsia
Quite simply Pekiti-Tirsia is the most effective Fighting System on the planet. Fighting, not combat sports, not tradtion but actual fighting. Meaning to say your life is on the line!! If you don't react the right way you are dead. For these kind of situations Pekiti-Tirsia is already very well known among the Military Elites around the world as it is Taught to the US Navy Seals, Army Green Berets, Philippine Army & Marines, The Indian Black Cat Commandos, The Austrian Cobra Commandos and even the Russian Spetnaz have had Pekiti-Tirsia Seminars to try and gain this amazing ability.
Pekiti-Tirsia Starts your training with Short Swords or Bastons (Rattan Sticks) that are used with a single arm and both arms. This weapon is about the length of your arm  it is used with a single grip. As you learn all of the angles of attack you quickly will realize that you are in perhaps the best aerobic and anerobic exercise. The stick or sword moves at a velocity greater than most exercises as you flow in combination from angle to the next requring much more resistance to stop, turn and link motions. Whast more with the shorter weapon it moves in greater revolutions and you must master each arch properly and completely so that no energy is wasted and every attack flows into another ready motion for attack or counter. Soon you will be learning how to attack and counter with MOVEMENT and not force.
These techniques build a reactive sense of combat that will develop your range and timing to understand the principles of Before, During & After. You see all attacks exist in this way, you just have not seen it before. Through proper Pekiti-Tirsia training you will start to see attacks right before they happen to beat your opponent to the strike, then you will see them in the during stage where you can intercept and finally at the after stage or Point Of Impact where you will learn the Amazing Counter Offensive ability of Destructions or "Attacking The Attack".
This Works not only for weapons both long and short, but also is quickly transfered for you into the System called Dumpag. Dumpag is the Combat Empty Hands of Pekiti-Tirsia where again you are using the principles of Before, During and After to Destroy your opponents attacks or attack him before he can strike. In the attack Dumpag uses Limb Destructions to first to lead in Combat Fnishers. On Counter Offense if you are attacked by a Striker, Grappler, Multiple Attackers or Attacker With A Weapon Dumpag immediately DESTROYS THE ATTACK to lead you into follow ups and finishers.
So How Does It Destroy The Attack? Well I could furhter attempt to illustrate this here but I will tell you the best way for you to actually see and understand how Dumpag does this is to attend a class or seminar with Mandala Allen J. Sachetti. He is one of the few Dumpaguerros promoted directly by Grand Tuhon Leo T. Gaje Jr. In class Mr. Sachetti does not deal only with theory, he engages students directly each class with good Boxers, Thai Boxers, Wrestlers and BJJ people attacking him. You will see the range & timing, the exection of attacks, interceptions and destructions as they lead into limb destructions and everything funneling into Neck Breaks. A very unique experience.
WHAT ABOUT THE SNEAK ATTACK? It is true that a good 98% of all street attacks are not announced. Particularly those with weapons. Well here senses and instinct are so very important. If you are attacked and experience a barrage of violence the most important thing is that you cannot shut down or freeze, if you do you are dead. YOU MUST FIGHT BACK AND YOU WILL if you train with Mandala Sachetti. He works hard to put you into these experiences while at the same time cultivating in you the proper reactions and responses until you become so conditioning that YOU WILL REACT and react well, not to die, not to become a victim and certainly not to allow anyone to ever hurt any of your family.
PEKITI-TIRSIA CLASSES ARE HELD
MON. & WED. EVENINGS 7:00-8:30 PM
CALL 302-743-3115 To Try For Free

Dedicated To Excellence
We Do Pekiti-Tirsia Not To Memorize Patterns Or Forms, But To Actually Function In The Chaos Of Genuine Attacks To Destroy That Which Threatens You Or Your Family.
Pekiti-Tirsia Classes Are Taught By Mandala Allen J. Sachetti Promoted Directly By Grand Tuhon Leo T. Gaje Jr. Seen To Left
Practical Edged Weapons Training & Amazing Empty Hands Known As Dumpag That Destroy Both Kick Boxer & Grappler
A Uniquely Functional Self Defense
That Works Against Real Life Threats
See Mandala Allen J. Sachetti With Grand Tuhon Leo T. Gaje In The Philippines

See Mandala Allen J. Sachetti At Full Speed With Live Edged Weapons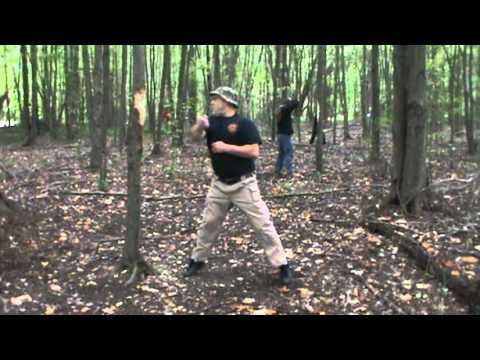 Mandala Sachetti Teaching Dumpag To Filipino Force Recon Marines At Fort Bonifacio

THE PEKITI-TIRSIA LAKAN COURSE

The Dauntless Pekiti-Tirsia Lakan Course

will produce in you a Functional Fighter Instinct and Ability in 3 Areas: The Short Sword, The Knife & The Empty Hands. You will Learn  Truly Rare Techniques that are Uniquely Effective In The Chaos & Stress of Real Fighting. The Short Sword or Single Grip Sword Will Begin Your Journey Into Edged Weapons As You Learn What Works In Actual Combat. Here Too You Will Begin The Impact Weapon As You Work With Both 1 And 2 Weapons To Work Your Way Up To Practice With Live Blades. The Knife Will Draw You Into The Reality Of Close Quarters Edged Weapons As You Develop The Skills You Need To Flourish In This Enviorment. Empty Hands Or Dumpag As It Is Known Will Teach You Strikes That Are Not Only Offensive But Counter Offensive To Destroy Attacks That Come At You. The Grappling Of Dumpag Is Linked With The Striking & Other Attacks Into "Limb Destructions" And "Finishers" Which I Kid You Not Can Enable You To destroy Even The Largest, Most Seasoned Wrestlers. Multiple Attackers, Enclosed Spaces, Enviormental Threats And More Come Later.
.
But Before You Are A Lakan There Is Yakan, Which Means Apprentice. There are 3 levels of Yakan material that you must master in order to become ready for your Lakan Test. Lakan means Fighter or more specifically "Warrior" and in the truest sense of the word you will become one in Instinct, Conditioning & Technique.
.
.
Yakan Isa covers the 

Baston

/

Talibong

/

Ginunting

. The Baston is the stick, Talibong is a short sword used for Thrusting & Slashing. The Ginunting is a Hacking weapon with a unique "Reverse Arch" that dramatically increases the power of the Hack. These weapons will be learned with both Single & Double or Solo & Doble material. This material usually takes 4 months to learn with proficiency.
.
.
.
Yakan Dalawa covers

Knife

. Pakal (Ice Pick Grip) and Sak-Sak (Hammer Grip) are taught with both the Solo and Doble material for both grips. Instinct, Conditioning & Technique will be developed and continously enhanced throughout your training. Fast, Devastating Attacks, Counters, Re-Counters, The Only True Disarm and More. This material usually takes 4 months to master complete with sparring and developed execution ability.
.
.
.
Yakan Tatlo covers

DUMPAG

. No games here, only the most effective Combat Empty Hands you have ever seen. Powerful Attacks, Counters Before, During & After The Attack, Re-Counters, Grappling, Ground, Fingers, Teeth & Ripping Grabs, Multiple Attackers & More. Unique Finishers like Limb Destructions, Neck Breaks and more. Everything in Dumpag leads to you living and the enemy being stopped. This material usually takes 4 months to master.
.
THE LAKAN TEST
At the end of 1 Year You Should Master the Short Sword/Baston, Knife And Empty Hands in order to perform well eNough to test for Lakan. Your Lakan test requires sparring in each of the 3 Disciplines with you achieving a certain level of performance in order to be passed and continue onto the higher levels.
.
.

THE LAKAN GURO COURSE
Once you have earned the rank of Lakan (Fighter) in Pekiti-Tirsia now you can go through the 6 Levels Of Lakan to Achieve Lakan Guro which is the equivalent of a Brown Belt in Pekiti-Tirsia. Then there are 2 Lakan Guro Levels of material from there to reach full Guro or Black Belt In Pekiti-Tirsia..
.
Lakan Isa

- Doble Baston / Short Sword (Doble Doz)
Lakan Dalawa

- Doble Daga (Qol Demamma)
Lakan Tatlo

- Intermediate Dumpag
Lakan Apat

- Advanced Solo Baston / Short Sword
Lakan Lima

- Advanced Knife With Variants & Throwing
Lakan Anim

- Espada Y Daga
Lakan Guro Test
Lakan Guro Isa – Saber (Longest Solo) Grip To Hagibis (2 Handed Grip Sword)
Lakan Guro Dalawa – Malay Sibat (Long Staff & Spear)
Guro Test
Guro Isa – Flexible Weapons & Throwing Weapons
Guro Delawa  – Short Sword Mastery Solo & Doble
Guro Tatlo – Knife Mastery Solo & Doble
Guro Apat -  Dumpag Mastery
Agalon  Test – Espada Y Daga Mastery
Agalon Isa – Saber & Hagibis Mastery
Agalon Dalawa – Malaya Sibat Mastery
Agalon Tatlo –  Flexible Weapon Mastery
Agalon Apat – Throwing Mastery
Mandala
Tuhon
Edged  Weapons * Impact Weapons * Dumpag
IN PEKITI-TIRSIA THERE ARE NO BLOCKS OR STAGNANT DEFENSES
ONLY OFFENSE & COUNTER OFFENSE FOR BOTH WEAPONS & EMPTY HANDS
.
WHAT IS DUMPAG

The Empty Hands

Method Of

Pekiti-Tirsia

Is Called

Dumpag

Which Is A Combination Of Pangamut & Dumog. Here Tuhon Leo T. Gaje's Senior Student Agalon Guro Allen J. Sachetti Has Really Been An Inovator In The Refining & Developing Of This Unique Linkage Of Striking And Grappling.
Dumpag Starts First & Formost With Fighting Instinct, Then Offensive & Counter Offensive Footwork With Unique Body Mechanics For Fighting Both Standing Or On The Ground. You Learn Fast Powerful Attacks And Instinctive Counter Offensives That Lead Into Limb Destructions & Finishers.
Primarily A Full Combat System Dumpag's Emphasis Is Always On Fighting The Animal In The Street But There Are Also A Large Variety Of Very Effective MMA Applications. In MMA Dumpag Has Proven To Destroy The Kickboxer & Shut Down The Grappler.

Dustin Alexander Uses Unique Dumpag Footwork to Evade & Strike His Opponent
THE PEKITI-TIRSIA WARRIORS GUILD
The Pekiti-Tirsia Warriors Guild Is A Group of Christian Pekiti-Tirsia practicioners led by Mandala Allen J. Sachetti where our only concern is Performance. Performance in our Moral Conduct and Performance In Battle Against Actual Attacks. "Blessed Be The Lord My Rock Who Trains My Hands For War And My Fingers For Battle" – Psalm 144 /  " In All These Things, We Are More Than conquerors Through Christ Who Loved Us" – Romans 8:37
We do not practice Pekiti-Tirsia just with patterns, forms or technical sparring, but we do it actually to save our lives. We practice Pekiti-Tirsia properly with Real Edged Weapons on fixed and moving targets. We do our Blade Flow with Real Edged Weapons and Sparring is conducted at real time first with training weapons & fencing masks, then sparring with rattan weapons and goggles only to finally reach sparring with Real Edged Weapons against our unique "Moving Man". The Stress & Chaos of Real Attacks in our training is constant as Our Success is measured only by the Instinct, Ability and Conditioning we maintain.
MEMBERSHIP IN THE PT WARRIORS GUILD IS BY INVITATION ONLY SEE US AT:
YOU CAN TRY A FREE PEKITI-TIRSIA CLASS AT DAUNTLESS
EVERY MON & WED NIGHT AT 7:00pm
New Students By Appointment Only Call 302-743-3115